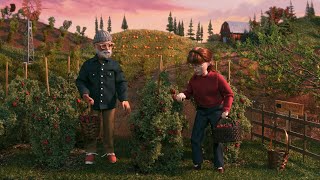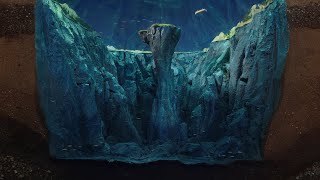 14th December 2022
Stop, Motion, Go
CANADA director Gerson Aguerri has a knack for wonderful and wacky filmmaking, bringing the inanimate to life and making big things happen on a small scale. 1.4 catches up with the Barcelona-based director about mastering stop-motion animation for his spot for Travel Oregon and why VHS mixtapes were precious treasure
From Travel Oregon, Extraordinary is Ordinary
What first drew you to visual storytelling? Did you grow up in a creative environment and where was that?
I'm from Zaragoza. A city between Madrid and Barcelona. Big enough for Metallica to play there if they are doing four shows in Spain, but too small for them to play if they are doing only three.
My access to cool stuff was basically the skate videos that I used to tape VCR to VCR from friends, some underground films and videos that I ordered through the catalogue of a record store, and the music videos that I watched when they installed Satellite TV in my building. The channels changed depending on where the satellite dish was pointing. The moment that I discovered MTV 2 was a moment of revelation. It was the mid 90s and my VHS mixtapes were my most precious treasure.
What was your route into directing? Was it a natural move for you?
Thinking of pursuing a career as a director felt a little delusional (even though it was what I wanted) because I didn't have a clue of what you had to do to achieve that and nobody in my environment was even close to that world.
I went to Barcelona to study and started to meet people there with the same interests as me. In my last year of university I directed my first music video for my friend Pablo, who had just started a musical project under the name of El Guincho. That video received good reception internationally and I was even contacted by an American agency to direct a Converse campaign. For a minute I thought that I had just hit the jackpot and that I was going to become a director overnight. In the end that campaign vanished into thin air and I just kept working as a cartoon screenwriter for a while.
I continued doing some other no-budget music videos and eventually stopped working as a screenwriter to focus on directing when I entered CANADA. The start was hard, directing super small commercials, but it was great as a learning process.
You're based in Barcelona. To what extent does the city – be it the culture, language, or just the good weather – affect your creative outlook?
I guess that it does, to some extent, affect my creativity but I don't know. I still feel that I don't belong here so maybe, in some way, it makes me feel free from having to follow trends from here. The good weather is great, though. But I just take it for granted. Maybe I would be more appreciative of it if I was living in another place for a while. 
Were you held to a tight script on your latest film, a campaign for Travel Oregon, "Extraordinary is Ordinary", or were you given a lot of freedom to play with it?
To be honest, the script was great, and I immediately clicked with the approach that the agency had. It was a long project. We were prepping for months. But it was wonderful because for a long time we were just throwing crazy ideas to each other to see which ones were resonating with everybody. It felt like a true collaboration.
A lot of your work has featured elements of animation or VFX, the Travel Oregon spot included. What different challenges does working with animation bring?
In this case we were combining the actions of stop-motion characters with real life characters in some shots. The camera was moving and the scale of the stop motion puppets was obviously smaller, so we had to scale up or down the movements with the motion-controlled camera, depending on what was shooting first.
It was a technical challenge but very fun to plan and then execute. I just love how learning a new technique opens up the possibility of using that trick in a slightly different way and how, combined with other techniques, it can create new things.
What are you currently working on?
I completed filming on a new spot for Toyota in Barcelona, now I'm currently pitching for other campaigns and preparing a screenplay for what will be my first short film – remember to order a VHS copy of it, through the catalogue of your local record store. 
Interview by Becca Nichols
@canadacanadacom
@gersonait