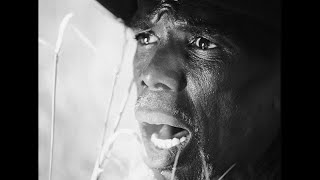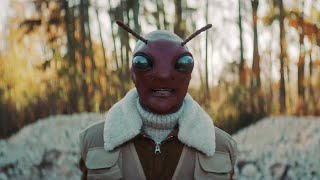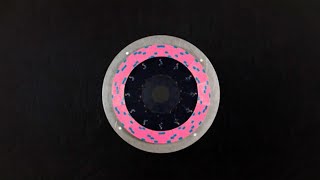 7th October 2022
Rave Review
Title of film: Belief, Dreams
Director: Maxim Kelly
Production Company: Caviar
Though by his own reckoning he's "nothing more than a cheap hack", a flick through Maxim Kelly's reel reveals an eccentric creativity and an excitingly experimental mindset. Whether he's dabbling in deepfake technology or more retro films formats, the Caviar director finds more inspiration in "rubbish stuff" than cool – and sees filmic potential in every lived experience. From an Orwellian dystopian disaster movie featuring an alien ant to a manic homage to '90s rave culture, his work combines refreshingly original concepts with strong visuals and careful craft. Having recently moved to Barcelona and become a father for the first time, he tells us why the pandemic was the best thing that ever happened to him
Maxim Kelly
You started your career as a photographer before moving into music videos; can you remember what was the first music video to make an impression on you?
I knew I was going to be a music video director after watching the video to Smells Like Teen Spirit for the first time. So, I've always known from a young age. Still, it took me a while to get to this point, nevertheless.
As a former assistant to Juergen Teller, you must have been immersed in the worlds of fine art and fashion photography – how has that influenced and shaped your aesthetic as a filmmaker?
I don't know if it shaped my aesthetic. Photography and film are so distinct, there's only a slight overlap. But it developed my attitude. It expanded the boundaries of what I considered possible both commercially and creatively.  The thing about going to art school is that it doesn't teach you "how to work." So you need to break out into the real world. And I was lucky enough to get the First Assistant job with Juergen, someone who is both creatively and financially successful. I'm not sure what tangible lessons I learnt though. It was hard work, but we also had a lot of fun. Maybe it's enough just to experience what success looks like vicariously. And if I achieve a small percentage of what Juergen has achieved in his career I will be happy.
Django Django: Spirals
Having launched your directing career in the midst of the pandemic – with videos for Django Django: Spirals and Shame: Nigel Hitter – what additional challenges did you face, and how do you think that's made you a better filmmaker/director?
The pandemic was the best thing that could have ever happened to me as a director. I didn't change, it was the world around me that changed. We were thrown into the conditions and environment that suited my style. There was no travel to exotic locations, no big casting. All the trendy directors, making videos of "street-cast" models in cool locations, and capturing candid moments, were out of work. And that allowed a bit of space for me to wriggle in. It made me a better filmmaker because I started winning more jobs. And time "on set" is the only way you're going to improve your craft.
What does the creative process look like for you? Do you tend to storyboard everything out methodically or are you more fluid and organic in your approach?
My creative process always starts with a simple list. And I just scribble as many ideas as I can. I don't stop once I have a "good" idea and I try not to censor myself. Once I have a long list, I sleep on it.  Then the following morning, I try to find the most absurd idea that still retains some logic, something that I find interesting, or a clever hook. Of course, I don't always come up with the perfect idea and that's fine too.
But it's different for every project. I have been known to storyboard an entire video. But I have also worked more organically. My approach is always results-led: I'm more fluid and organic if I've worked that way on a previous project and I'm happy with the results. If not, I go back to being more rigid and storyboarding.
Black Country, New Road
Looking at your work, every brief seems to be approached in a highly experimental way, from the concept to the filmic techniques and technology. Do you consider yourself a lateral thinker? Where do you find inspiration, beyond the lyrics of a track?
I don't consider myself to be anything other than a cheap hack. I don't know where ideas or inspiration come from. I just get stuff down on paper and try to nurture ideas by coming up with more of them.
But I consume a lot of things, films, art, music, archive footage, and photography books. It's annoying for everyone around me, every time I look at anything or go anywhere, I'm not really present. Instead, I'm thinking about how I could exploit the situation, experience or content by using it in a film.
You became a father for the first time this year: how do you feel that's changed your process, priorities and creative output as a filmmaker?
I love being a father, it makes me happy. And as a result, I feel like my work is getting better and better. Of course, I've had to adapt my process because I have less time. So, I'm pitching way less. But my current hit rate is high. I haven't lost a pitch in a while. So, I've become pickier about what I decide to write on.
My priorities up to this moment have always been creative rather than financial. Having a baby changes that mindset. So now I've come to a point where I'm beginning to concentrate more on the money side.
Belief, Dreams
We love the weird energy in your most recent music video for Belief: Dreams, which you've described as a tribute to '90s rave culture. The elf [played by Mark Crawley]'s moves are absolutely electric – who was responsible for the choreography?
Arran Green handled the choreography. I sent him reference material. And we did a rehearsal day, where we worked it out together. We then filmed the rehearsal and I went away and came back with some more changes. Mark Crawley is just such a fascinating dancer to watch. He did a self-tape audition and it wasn't what I was looking for. But all the tapes I got weren't right, so maybe my brief was wrong.
But I went back and did some digging and found a self-choreographed piece on Vimeo that Mark had made. And I was like, "Forget the thing you did on the audition tape. I just want you to do your thing."
You've experimented with future-facing tech such as deepfake software in the Nigel Hitter video, but you've also looked to the past and retro film formats by choosing to shoot Dreams on MiniDV. Would you say you're inspired more by the past or the future? Is there any particular format you're drawn to?
I'm a dad now, so I feel qualified to go on about how "things aren't like they used to be." Shooting 'Belief' on miniDV is a good example. It looks really great. Of course, we should credit Arthur Loveday (DOP), Pearce Crowley (Gaffer) and Tom Mangham (Colourist) for their own talents and skill. But that's a £90 camera I bought on eBay. I built my entire career on that camera, it's how I started, you don't need a 4k camera, let alone an 8k one. Camera companies spend a lot of money on marketing, but it's all smoke and mirrors.
But it's a good question because I find rubbish stuff more inspiring. I don't think you can make cool work by trying to do something cool from the get-go. Sometimes I get help with image research for treatments and it often comes back looking like some trendy Tumblr/Pinterest mood board. And I just think those references are never gonna make a cool video. The coolest people you know are "cool" because they don't know what "cool" is. So maybe the future holds all the inspiration I need.
Shame, Nigel Hitter
What are you working on at the moment? Any themes or topics you're keen to explore in future work?
I have a couple of videos I'm working on due for release soon – watch this space…
I also want to do more fashion work and more commercial work. And I'm looking to shoot more in Barcelona where I moved to last year. I can't be bothered with travelling at the moment, I want to stay home with my family. And everything in London is over-shot anyway.
I feel like I've got a short film in me too.  The themes that interest me are people who can't express themselves, and people who fight "what is," because they either can't accept themselves or they seek to change the world around them in impossible ways.
Interview by Selena Schleh
Caviar website
Maxim Kelly website
@caviar.tv
Credits
Belief, Dreams
Caviar @caviar.tv
Director: Maxim Kelly #maximkelly
Executive Producer: @elerijaneevans
Producer: @sachinchande
PA: @its_samiracle
DOP: @Arthur_loveday
1st AD: Victor Shikhatov
Production Designer: @syd.harmony
Makeup & Prosthetic Artist: @georgiaolive
Choreographer: @brother_echo
Dancer: @markcrawley_
Editor: @vidprice @trimediting
Colourist: @thomasmangham @blackkitestudios
Directors Rep: Joceline Gabriel, @handsldn
Label: @lexrecords
Commissioner: Zoe Davis
black midi, Eat Men Eat
Production Co: Caviar
Director: Maxim Kelly
Executive Producer: Eleri Evans
Producer: Aisha Kemp
Production Manager: Phin Shaughnessy-Symons
DOP: Pieter Snyman
1st AD: Joe Mulvihill
2nd AD: Bradley Baterip
Focus Puller: Oliver Bingham
Loader: Charlotte Hayde
Camera Trainee: Owen Rumsey
Gaffer: James Duffy
Spark: Cleo Vogler / Daniel Svilenov
Lighting Trainee: Dylan Rogers
Production Designer: Syd Harmony
Stylist: Celia Arias
Stylist Assistant: Anastacia Malikova
HMUA: Melissa Davies
Editor: Vid Price @ Trim
Colourist: Tom Mangham @ Black Kite
Label: Rough Trade
Commissioner: Tom Travis
Maxim Kelly's new music video for @beliefband (@boombip @steezmeez