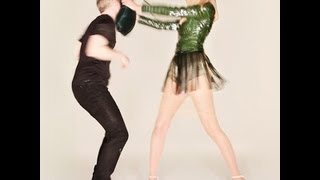 6th March 2012
Power dressing
Title of film: SHOWstudio: Lara Stone / Nick Knight / Carine Roitfeld - Krav Maga Self Defense
Director: Nick Knight
Production Company: SHOWstudio
Nick Knight's smart scenarios on self-defence
The concept and strategy of Nick Knight's series, Fight like a Girl, had us punching the air over its cleverness.
Inspired by the Slutwalk movement of women reclaiming the right to dress as they wish without being seen to invite attack, Knight decided to address the notion of self-defence through a fashion shoot.
He collaborated with two much-celebrated and empowered female fashion figures – model Lara Stone, and stylist Carine Roitfeld – to redefine the notion of Power Dressing for the twenty-first century.
Specially trained for this shoot in the techniques of Krav Maga, a self-defence system developed by the Israeli Defence Forces, Stone defends herself in a series of scenarios whilst modelling a selection of Spring/Summer 2012's fashions, selected by Roitfeld.
Not only do the films showcase next season's key styles, they offer a series of instructions to women, a high-fashion 'how to' of self-defence.
Credits
Director: Nick Knight Production company: SHOWstudio Starring: Lara Stone Stylist: Carine Roitfeld