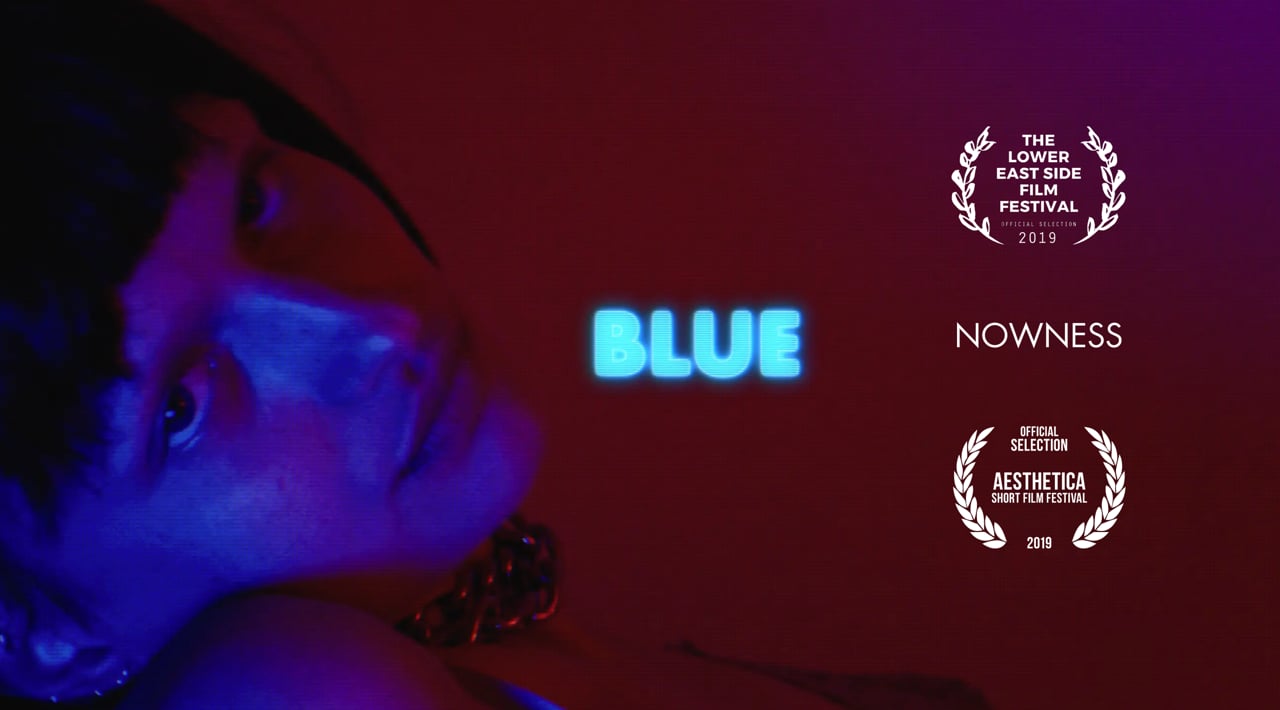 11th January 2023
Fantasy of delusion
Title of film: Niko & Eleanor
Director: Sam Severin
In this compelling short, Niko & Eleanor, Sam Severin gives us a poignant account of a bizarre yet beautiful symbiosis formed between an Alzheimer's sufferer and the opportunistic young man who breaks into her house. With stunning visuals and wonderfully complex characters, the New York-based writer and director's work explores themes from intergenerational dynamics to the male gaze. 1.4 talks to her about directing her own material and her research on the world of cam-girls in an era before Only Fans.
Niko & Eleanor
Was filmmaking always on the cards for you? What was your route into directing?
I wanted to write initially. I've always loved movies and art but I grew up in a place where filmmaking was not a job I really saw as an option. Some of my first jobs were assisting writers. Then I became really obsessed with art direction, production design, casting, etc. Eventually I realised I could have a hand in all of it and direct.
Niko & Eleanor
Niko & Eleanor centres around a vulnerable woman suffering from Alzheimer's and an opportunistic young man. What did you draw from when writing the two characters?
Both characters are loosely based on family members. Eleanor is a mix of my grandparents. My grandfather had Alzheimer's for many years and it was obviously a difficult experience for my family. But one of the more positive sides of it was that he would tell elaborate stories about things that had not happened but he seemed to wish had happened. He'd tell us he'd just gotten back from a trip with my grandmother and all the things they did together despite the fact that she had passed years prior. It was hard at first because we'd try to correct him – like Eleanor's daughter Olivia does in the film – and he would get upset when he'd be reminded of reality. So eventually we let him live in this fantasy world. I think it gave him a lot of peace. I just remember it felt really special hearing what he imagined and I knew I eventually wanted to make something about that.
Niko is based on someone in my life that has gone down the wrong path in a lot of ways. Has a lengthy criminal record, things like that. But he's someone I grew up around and I've seen a very sweet, caring side to him too. Niko was a really important character to me because I wanted to show the softer, charming side of someone that most people would write off as a bad person.
And then I was excited to bring the two of them together. I grew up spending a lot of time with cousins – lots of boys – who would run around and constantly get in trouble. They were bad kids (which I loved.) On the other hand, my grandmother was a very strong matriarch of our family and did not take shit. So when we'd all stay at my grandparents' house together, it would be chaos. They'd be trying to sneak pot in the house, steal alcohol from her cabinet, etc. It was always entertaining (for me at least) and I wanted to recreate that visually a bit. 
Niko & Eleanor
What were you looking for during the casting process for your lead actors?
It was important for Eleanor to be able to oscillate between different modes pretty dramatically. One minute she's warm and charming, the next she's absent and irritable. Niko needed to be a little threatening but also likeable. Brian Wolfe and Barbara Linton are both amazing and were so fun to work with. I went into casting knowing vaguely what I wanted and they instantly brought the characters to life. Kelli Caton was our casting director and she had a great eye for the right people.
Dark Web, Blue
Your previous short, Blue, is a fascinating examination of the male gaze through the metaphor of "cam-girls". Where and how did the inspiration for this piece strike? 
I was obsessed with making something about a cam girl character at the time. Now it's something that you see popping up more in culture, especially with the explosion of OnlyFans, but I hadn't seen much about it then. I interviewed several girls and what was most interesting to me is how often their interactions with their (generally male) viewers were not explicitly sexual. A lot of these men just wanted someone to talk to. It seemed like it was more about loneliness and desire to connect than it was about sex sometimes. I remember watching a girl's livestream and it was thousands of people watching her rip a bong in her bedroom and the messages were just asking about what she's studying in school. That was it. 
It also hit me as this perfect visual for what it feels like to be on social media where people are constantly broadcasting – and often exploiting and selling themselves a bit – to an audience. It's weird. It's a panopticon that we're all participating in.
As far as male gaze goes, I was fascinated by this world of camming that happens in a private space where a woman is in control of how she's being consumed (and profiting from it) and wanted to contrast that with the experience of being a woman in a public space where you're subject to male attention that is harder to control and sometimes dangerous.
Blue
How does your awareness of the male gaze influence the rest of your work?
I think now I'm more interested in the deeper effects of it. The dynamics between men and women, the roles and expectations on both sides. The effect of the male gaze is that women internalise it and perform what they think is desired. I'm interested in how that comes up in intimate relationships. I'd say it's even passed down from mother to daughter. I have a script I've been sitting on about female performance. It's horror so I guess that kind of tells you how I feel about it.
You wrote and directed both Niko & Eleanor and Blue. Do you approach the writing and directing stages of filmmaking separately, or are you creating a mental storyboard from day one?
In both projects, I got obsessed with the characters first. Then I mapped out an extremely drawn out plot that would be better for a feature and had to pare down from there. The writing stage is fun because it can be anything you want. When you go into the filmmaking stage you have to take reality into account so you can actually make the thing with the resources you have access to.
Interview by Becca Nichols
Sam Severin website
Credits
Director & Writer - Sam Severin
Producer - Andrew Nisinson
Executive Producers - Andrew Nisinson, Meilin Gray, Samantha Severin
Producers - Michaela McMahon-Dunphy, Meilin Gray
Casting - Kelli Caton, Kate Antognini
Director of Photography - Taylor Mcintosh
Production Designer - Julia Payne
Editors - Kyle Moriarty, Miranda Clancy
Score - DOLCE, Luke Rathborne
Players - Jesse Kotansky (violin, cello), Noah Hoffeld (cello)
Color - Sam Daley
Title Design - Ben Tuber
1st Assistant Camera - Richard Martin, Manny Rodriguez
2nd Assistant Camera - Nicole Hansen, Percio Luciano
Gaffer - Omar Nasr
Key Grip - Aaron Trujillo
Best Boy Grip - David Reichman
Best Boy Electric - Raphael Hernandez
Sound - Tarcisio Longobardi, Steven Lopez
Hair & Makeup - Tia Rivers
Production Coordinator - Max Pavlichenko
Production Assistants - Aubrey Resto, Maria Sofia Hernandez, Alex Nyves