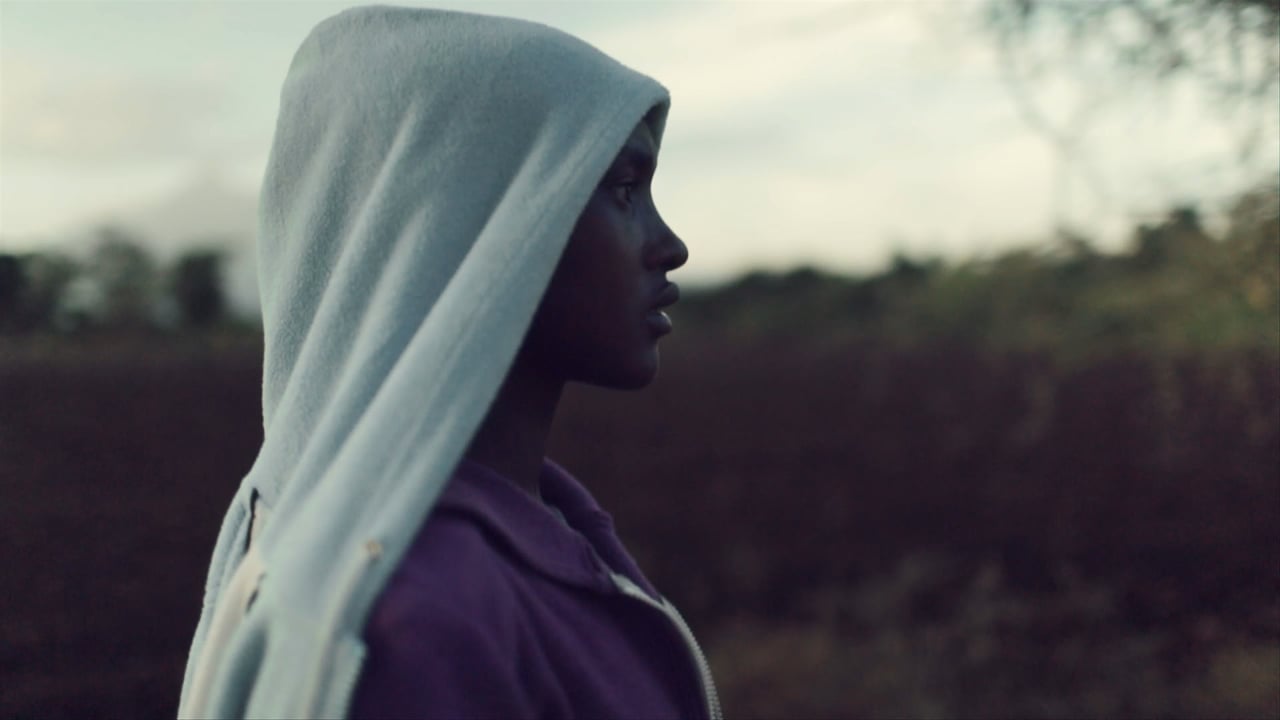 17th February 2014
Blowing life into stone
Title of film: Rae Morris 'Skin'
Director: Nadia Marquard Otzen
Production Company: Academy Films
Nadia Marquard Otzen blew us away with her two recent music videos - see in related content for more stunning work. here we catch up with the new danish director now repped by Academy+
You've just followed your wonderful Skin video for Rae Morris with a film for The 1975's track Settle Down with a dreamy, sometimes bleak film set in Northern England. How did the narrative come about – did you collaborate with the band on the visuals?
Matty, who is the singer of the band, had quite a clear idea of the story he would like to tell in this video. Not a regular love story, but rather that bond and connection you have between two people, whether it is platonic or not. I had had really good experiences talking directly with the artist, so we organised to meet in person before I wrote a treatment. We hit it off straight away. I had brought along a bunch of reference pictures and Matty talked about the basis of the idea – a reoccurring dream he used to have of two boys who are being kept apart or for some reason live in isolation of one another, in a world where all the adults seem to belong to some other menacing reality.
In the end the two boys meet and unite in a supernatural way. So we decided to simply tell that story. Darkness comes to me very naturally and here was plenty of darkness to dwell on. Creating an unsettling world for these two boys to break free from and ultimately creating a film about meeting and connecting with that other human being which completes you and who you have always sensed was there, and at that moment you do so the world as you know it dies away.
The backdrop to the story should be a place which felt both brutal and nostalgic. A timeless place not connected to any past or present. I've always had a fascination for industrial environments and it turned out Matty was from the North East coast [of Britain] so seemed perfect to go there for this.
I went up there on a recce, ate lots of battered this and that with extra batter, took lots of pictures, met with the locals and then based on that, the script and visuals started to take shape.
Shooting in b&w seems to have been your choice for both these films, although your earlier work is in colour, what was behind this decision?
It was a bit of a coincidence to do two black-and-white films right after one another. Skin I shot prior to Settle Down and the aesthetic of that video naturally lent itself to black-and-white. The video should feel both strong and fragile at the same time, clean and simple and black-and-white gives you that delicate quality. The 1975 is a band with a really well-developed concept behind their visual out-put, they do everything in black-in-white – well almost – so as soon as I started thinking about this story it was already in black-and-white in my head. Now spring is coming and I'm ready for some colour.
What was the starting point for your treatment for Skin? Was it based on the lyrics or was your film more a metaphor?
As with Settle Down I got to meet with Rae and talk about her thoughts and feelings behind the track. We talked a lot about awakening of senses, of a human core, which seems pure and real. About touch, texture, a quality that seems both vulnerable and powerful at the same time. It made me think of marble as a texture, it feels completely hard yet looks almost transparent. That led onto the nakedness of classical sculptures and the fact that despite them being naked, they seem powerful. So the film is more of a conceptual idea based on those themes. Blowing life into stone.
The choreography is intricate, how did you work with the dancers? Was there a lot of rehearsing prior to shooting? Did you storyboard the scenario in detail?
I had an idea about what I would like to do for the choreography, and Malgorzata Dzierzon was brilliant at interpreting that into a routine, and the three dancers are simply out-standing performers. We were very lucky to get to work with such talented people. We did one afternoon of rehearsing the routine and then everything else we improvised on the day of the shoot. I had photographed the location and then on the ipad drew the different set-ups onto the pictures, and these became our boards. We boarded most stuff and then Martijn Van Broekhuizen, the DoP, did a bit of dancing of his own as he elegantly moved around the performers with his easy-rig. This was the first time we worked together, he's a fantastically creative DoP. We also did Settle Down together.
What were the main challenges of these recent productions and how did you overcome them?
Both Skin and Settle Down were very pleasant jobs with no major obstacles other than the usual which is time and money. It's not always a bad thing being restrictive with money though, my poor producer Liz Kessler might think otherwise, but it does make you keep refining your idea, makes it cleaner and simpler.
However the real big obstacle for Skin was finding the material we could cover the dancers with without completely blowing the budget. We tried endless things and finally nailed it with none other than treacle. So at 3 am at the last shot of the day – it was a night shoot due to the public building we were in – we were filling the room with smoke for some atmosphere, and off goes the fire alarm and in comes the firemen. They were very unimpressed by being called out on a false alarm until they saw two half naked dancers blinded by treacle embracing each other on a pedestal. Eyes fixed on the treacle-covered nipples, priceless smiles.
How did Chime for Change – MWEDO – come about?
That is a really different kind of story. Out of the blue I got approached by an organisation to join them in a climb up Kilimanjaro and photograph for a book. I had never done anything remotely like that in my life, scared me frankly, but it seemed too much of an adventure to turn down, so I accepted. The book is called Dreamers and Doers and it's sale supports education for girls in Tanzania. The organisation asked if each of the ambassadors of which I was one, could give something back, some raised money, and I decided to make a film – for and with – some of those girls the organisation supports.
So after coming down from the mountain I went and stayed at MWEDO, which is a boarding school for Masaai teenage girls. And I can hand on heart say that despite my fatigue and exhaustion from the climb that is one of the most beautiful, pure and honest experiences in my life. It was just me and my camera, no crew. Each day at 5pm the girls would meet in the main dining area, not because they were told, but because they wanted to. They were all very religious and this was the time of prayer, though very different from how we know it. They had one drum and one stick, one girl would start a rhythm, then one girl at random would start singing, and she was then joined by hundred girls answering her. Some were dancing. No rules, nothing rehearsed, just a pure, inherent connection with their musicality, their voices echoing in the big hall.
Chime For Change which is a big organisation focusing on positive change and growth around the world starting with women, had picked up on me doing this film and asked me if they could use it as part of their live show in London, a big concert with Beyonce, Madonna etc. So Canadian singer Lowell and producer Kristoffer Sonne created an upbeat track to go with the film based on the rhythms of girls, the film should raise awareness for these girls, but I felt it should also be a celebration.
You've recently joined Academy. Have you been based in London for sometime?
Yes I've been in London for a long time. I haven't lived in Copenhagen where I'm from since I was 19. I went to Central St. Martin where I did graphic design, a course which trains you in constantly coming up with creative solutions. My introduction into the world of film came when I started working with commercials director Chris Palmer at Gorgeous as his creative assistant. Chris is a fantastic person and director and taught me a lot about having fun with the projects we work on. To be uncompromising and ambitious, yet keep calm and collected.
My first major project of my own was an arts funded film and music project called The Pony Tales. The idea was to create a "film album" where music and film exist as equal measures and supports each other in the narrative process. It consists of nine instrumental tracks supported by nine chapters of films, which together create a full story. When we did it nobody else had really done anything similar, so everything was a bit of a test.
The film follows a group of wild teenagers in the moody desolate landscape of The Faroe Islands and premiered with a life show at the Cph:Dox festival and was then followed by another major show in London at Sketch Art Gallery and then ran for three consecutive months. A mammoth project but still to date the one I have dearest to my heart. The whole thing was just such a mad and beautiful experience.
And now I'm in the trusting hands of the talented folks at Academy. Couldn't be happier.
LINKS
Credits
Rae Morris, Skin Director:  Nadia Marquard Otzen Producer: Liz Kessler Dop: Martin Van Broekhuizen Choreography: Malgorzata Dzierzon, Julie strandberg Art Director: Lucy Sanderson Make up: Tina Solberg Styling: Emma Savill Editor: David Stevens, the assembly rooms Post: Lee Watson Beauty post: Judy Roberts, Finish TK: Paul Harrison, Finish Production Company: A+/Academy Films Label: Atlantic Records The 1975, Settle Down Directed by Nadia Marquard Otzen DOP Martin Van Broekhuizen Producer Liz Kessler Production Company A+ Chime For Change - Welcome to MWEDO Director and photographer: Nadia Marquard Otzen Editor: Rikke Selin Lorentzen Music: Lowell and Kristoffer Sonne Grade at Finish Animation at Jelly Produced via A+