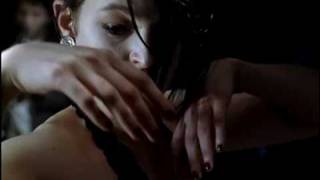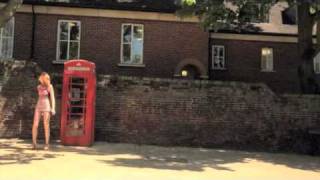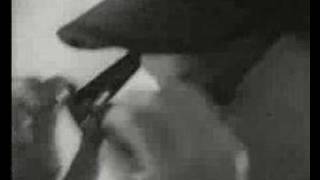 16th November 2012
Romantic unravel
Title of film: Scratch Massive - Paris feat. Daniel Agust
Director: Zoe Cassavetes
Director Zoe Cassavetes discusses her creative process for making "Paris" for Scratch Massive
Collaborating is in your DNA. Your parents John Cassavetes and Gena Rowlands famously worked together on movies and you and your husband Sebastien Chenut collaborate on projects together. He's created the music on many of your films and now you've directed this video, Paris, for his band Scratch Massive – a follow up on your much earlier collaboration for their track, Like You Said.
Is collaborating a natural, spontaneous process for you, or do you actively seek out talent to work with? Do you have a regular crew you work with together?
I think I'm lucky because I know a lot of people in the business, and I'm interested in their ideas and how they differ from mine. Maybe it's not always natural to collaborate with your spouse, but since we are both in the arts but have totally different jobs it's not such a clash. I love actors, and I think casting is such an important process to get the mood of what you want just right. And then there is something to be said for using the same actors over and over again. There becomes this amazing shorthand because you know each other so well. Same goes for my crew. They are like family, like an extension of me and the vision we all share.
And how does the collaborative process work with Sebastien and his DJ partner Maud Geffray? Do you have creative freedom to interpret their music?
Well, the rule on the video was once they OKed the idea, I kind of had freedom to do what I wanted. I try to keep the rules as if we didn't know each other and this is a totally professional collaboration. It's the only way things don't get messy. And I pretty much do the same when they make me soundtracks. I brief them about what kind of mood I want and then let them work. I think as long as there are boundaries, it's so great to have such a talented musician at my disposal!
Was the narrative for the Paris video an existing idea or was it driven by the music and lyrics? What was it about this particular track which appealed to you to make a film?
When Sebastien and Maud came to me to make the video, obviously I had listened to the whole album many times and this was one of my favourite tracks. We discussed briefly about not making it too "Paris" with Eiffel Towers and berets and such. No I'm kidding, but really it had to represent something in Paris without over doing it. So I thought of people who live in Paris, what that could be like. Also what could be simple. Then I looked at a lot of trailers from films I like from the 1970s and started to form the idea.
What is your method of evolving ideas – do you sketch or write?
I have so many horrible ideas before I have a good one! So yes there are many thrown out pieces of paper with bad ideas, or ideas I would not use. But then the moment comes and it clicks and the seed is planted about an idea and then I try to develop it from there.
Is this your personal take of Paris as a city?
I am not a Parisian, so I'm sure many would argue with me this isn't how Paris is. But this is my interpretation of a story of what could happen in Paris. I find life in Paris can be very dramatic, as it's such a small town and everyone knows everyone.
The actors' portrayals of the unraveling of the trio's relationship – the longing, the mad partying and the betrayal – are uncomfortably resonant and honest. Were there days of rehearsals or were the performances more organic and did they evolve on set? Do you find the process of directing actors for a "silent" music video quite different from a film with dialogue?
We did this video from start to finish in very little time. I was very lucky to have actors that I already knew and worked with in some cases, and it just so happened that they knew each other which made it that mush easier. We talked a little before about what the story would be, how I wanted it full of drama because in the end it would only be moments. But then we had a lot of fun shooting. We were in my apartment and we had no client so we were really free to play.
In my films I have heavily relied on dialogue but I think it's harder to show the story rather than explain it. And if you can do that, it's a good lesson to remember for all film. Show, not tell!
It could have been quite a brutal visual story but you tell it elegantly with your distinctive way of focusing on the subtleties and textures of the moment, close-ups of details, partly framed – the torn rugged shirt, the married affection of a stroke on the neck for instance. What is it about this form of observation that intrigues you?
I like tension in film. I like to watch people who are not all bad or all good, people with flaws. This interests me because we are all flawed, we try to hard not to be, but we are! There is a mix of beauty and pain which will always be attractive to me.
Was it shot on film or digital? The tone is beautifully graded. Did you reference any material in the tone and light?
We shot on two 5D Canons with mostly natural light or very few lights. It was great to have one camera always going large and one very close up to be able to use the same actions and not have to recreate something we really liked (if we had only caught it on one camera). The grading is a real pain in the ass on that camera so it took a bit of work but I was really pleased about how it can look.
The editing must have been a key element to the film's aesthetic. Did you have miles of footage to choose from or did you work closely to a storyboard with few takes? Did you work with an editor on location? Do you enjoy the process of finally weaving the narrative together?
We did have a bit of footage but the footage almost dictated what we were going to do. I had a basic breakdown of what I wanted out of the scenes and a more general story line. But my editor Roxane Faure-Huet was amazing. She really understood the rhythm I wanted and we worked pretty fast to get it.
Are you working on anything else that you can tell us about?
I'm prepping a feature film for early 2013 in Los Angeles. I wrote it to be a comedy but then it ended up being kind of dark. I guess that's the way it will always be for me!
LINKS:
See more work of Zoe's here
Credits
Scratch Massive feat. Daníel Ágúst , Paris Director: Zoe Cassavetes Producer: Zoe Cassavetes Editor: Roxane Faure- Huet Cast:  Cécile Cassel, Louis-Marie de Castelbajac and Charles Derenne Scratch Massive, Like You Said Label: Pschent Director: Zoe Cassavetes Producer: Zoe Cassavetes Editor: Roxane Faure- Huet