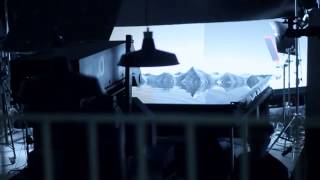 12th September 2014
Night dive
Title of film: Issey Miyake, Nuit De Issey
Director: Ryan Hopkinson
Production Company: White Lodge
To mark the opening of London Fashion week, we talk with White Lodge director Ryan Hopkinson about the making of his film for Issey Miyake
Issey Miyake has such a strong design and creative philosophy – can you tell us how the concept for the film evolved?
I got the impression that Issey wouldn't be interested in seeing a typical aspirational fragrance advert with good looking models. So I decided to concentrate on using the bottle's form and design to lead the creative elements of the advert. For instance the matte finish of the bottle's cap inspired the geological qualities of the mountain range whilst the brushed glass bottle was taken to reflect the surface of the ocean.
It was important to feature an element of a man throughout the film so we developed elements that displayed him leaving his mark on the night and the landscapes he transitions through.
You also shot the stills campaign – is this a way of working you're finding is more common on your fashion and commercial projects? Do you feel this process enhances the creative continuity of the overall campaign? And what production challenges does it throw up?
I definitely find that it's becoming more common through commercial film work, the majority of projects I've worked on recently have had a photography element. It's a real pleasure to do both, making sure we keep the style and continuity throughout the campaign, although we sometimes get asked to do a completely different setup with a more refined approach that can be different to the film. 
It usually only gets difficult for production when we have to shoot it on the same day as the film, although this is entirely possible it just depends on what the client is after because if it's high speed movements for instance, then we will need a different lighting setup and a heads up. I find it makes more sense to concentrate on one part of the project at a time, this way the client doesn't miss anything and everyone on set understands the photography is just as important as the film.
You're beginning to build a reel of work that's shot predominantly in camera – what is it about that approach to film making that appeals to you?
I like to always begin a project with this in mind, I think approaching commercial and personal work in this way sets a few rules that can then be pushed and broken to help form and develop new ideas or ways of shooting that might not have been considered before. There's a spontaneous element to shooting in-camera that I find appealing, even on very controlled and heavily planned projects it's always still there. With CGI the spontaneity of capturing alternative or unexpected scenes doesn't really exist and if you have enough post production budget neither do the parameters. I feel I would miss those opportunities to break the rules, these unexpected moments can sometimes help push a project further creatively.
I'm fascinated by CGI as an add-on that can aid the look of the film or create something that production would otherwise shake their head at. As of yet I haven't really felt the urge to use it heavily on a particular project, it's currently a last resort for now if I can't figure it out with the art department first.
Have you got any other film or stills projects on the horizon that we should be keeping an eye out for?
After the recent release of commercial projects I'm looking forward to getting into my personal work. I have a few exciting editorials being released including a special feature for Twin & Louis Vuitton. I will also be taking over We Transfer's home page for a month with a new moving image piece and then releasing more editorial and commercial work in late October.