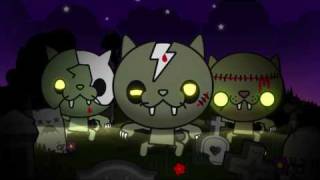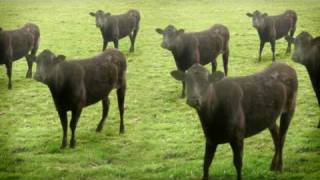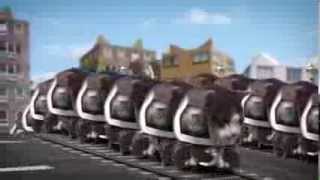 24th December 2012
Mutation mix
Title of film: Cycles
Director: Cyriak Harris
Mad dancing cows, strange kitty tricks, walking teddy bears in Brighton and more crazed cats, can only mean it's Cyriak Harris showcase time
A lot of your work is based on real life which makes it funnier, so how does it evolve? Do you come across footage say of cows or cats or whatever and think "ah I could have fun with that" or do you have an idea, go out and shoot and then go crazy on the computer? Does the piece have a life of its own once you start working on it or do you have a fair idea of what's going to happen before you start?
My videos usually start life as a simple animation experiment that grows into a whole film over time. I might take a piece of footage or a photo as inspiration and see what weird stuff I can make from it. Eventually the experiments evolve into something that almost seems to make itself – I never really plan those videos, they are a kind of improvisation.
When you're playing around with ideas do you sketch or write?
Occasionally I do come up with an idea for a whole video, and in those cases a bit of planning is necessary – particularly if I'm collaborating with another artist. In those rare cases I will need to make a rough storyboard and then an animatic, which is basically a video of the storyboard set to the soundtrack so that I can work out the timing of all the scenes.
However when I am just playing around with ideas I don't usually draw or write anything, it all just falls out of my head into the animation software – when you are using photos and film footage then you don't really need to sketch things in advance.
Your music video for Eskimo was clever and considered rather than off the wall nuts. Were you commissioned to make the film and are there more music videos in the pipeline?
The Eskmo video was commissioned by Ninja Tune, and they pretty much left me to do whatever I wanted (which was quite trusting of them). I couldn't even show them any work in progress because of the way I pieced it all together at the end of the project, so the first they saw of it was the finished film – that is quite unusual though. I've made a few music videos now, most recently for Flying Lotus and El Ten Eleven. I also did a video for Bonobo which should be coming out soon.
Whatever software you use, you must know its every quirk. What's your favourite program and kit?
I use Adobe After Effects for animation. I started using it back in 2006 so I've had plenty of time to get the hang of it, but even so I find myself learning new stuff all the time. The techniques I use are pretty simple really, its just that I use them in such a convoluted way.
Do you ever see the light of day, locking yourself away or are you rather structured and work regular hours?
I live a very solitary existence, mostly bathed in the light of my computer screen. I try to work fairly normal hours, but when you are nearing the end of a project its far too tempting to stay up all night to see the finished result.
Six pieces of work – what are your favourites? (See them all in Related Content)
At the moment my personal favourites are:
Meow, because it was such an epic amount of work to do.
Cycles, because it was a video I had wanted to make for many years.
Cows & Cows & Cows, because it took on a life of its own after I uploaded it.
Baa, because it is so bloody weird and yet kind of friendly at the same time.
Welcome to Kitty City, because of cats.
Because, just because.
What are you currently working on?
At the moment I'm trying to get a short Christmas video done before Christmas. Time is not on my side though…
Are you signed to a production company or are you happily independent?
I'm independent at the moment. I've had a fair amount of interest from production companies, but I tend to get clients approaching me directly for work so I'm happy enough to continue on that road for now.
LINKS: