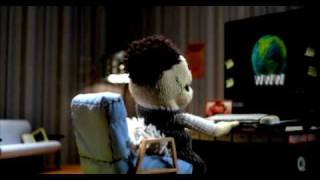 12th July 2012
New director: Balint Sos
Powerful test spot scoops YDA public vote
Former art director and copywriter turned new director Balint Sos has won the Public Vote for the Young Director's Award with his stunning Hungarian public awareness test commercial for NaNe, Women Against Women Violence. Hitting over 170,000 views on the YDA youtube channel, Budapest-based Balint collects a Canon 5D as his prize. "I have a few objects that have been a part of my life for some time and I have grown a special connection with them, I'm sure the 5D will prove to be one of them," Balint wrote. Here we catch up with him about his film:
When did you decide you wanted to direct?
I wanted to be a director ever since I was a child, but somehow I managed to build up a proxy-career instead. Even when I was a graphic designer, or later ad creative, in my heart I wanted to be a director, but in retrospective these years greatly affected my later filmmaking and visual style, so it wasn't time wasted at all. When I first started directing four years ago, I already had a pretty good knowledge of art direction and the way commercials are developed which was useful for directing commercials.
Tell us please how the Incidents, Women against Women Violence, spot came about please. What was the original brief and from whom?
There was no original brief, that is why we entered the spot in the Test Commercial category. The whole idea of making a test spot came from Katalin Krammer, producer at Strawberry Films. She approached me with the idea, because she saw some talent in me, and she was also willing to invest in the production. It was a humbling moment, and I am forever grateful for her support.
So if we were to invest in a test commercial, we thought, why not make something that could have some real impact and use later on, so we decided on making a PSA. A friend of mine, János Debreceni remembered an old script he wrote for NaNe, which had the line 'Don't let your conscience sleep'. Basically that sentence was the brief, on which I wrote the script.
I decided early on, that I wouldn't show women being abused, no spilling blood and other 'shocking' effects, that almost every domestic violence PSA uses. I didn't want to shock, I wanted to find an alternative talking point in the domestic violence conversation. That's why we finally addressed people who might know abused people in their social circles. It would be naive and nonsensical trying to talk to the violators or the victims themselves, but gently reminding people to act when they see abuse is a fair message I think. If we managed to strike up just one conversation, it was worth it.
And how did you develop the brief with your treatment?
The whole development was quite organic, from the core message to the art direction. One thought just led to another. As I said, we wanted to address people who might have a hunch that someone in their circles is being abused. That lead to a research of the real situation, and we found out that a large percentage of victims are actively trying to hide their abuse, and 'domestic accidents' are the main evasions of the queries.
For me this seemed like a very bizarre and painful state that these people were forced into, so I wanted to communicate this with the film: while they are trying so hard to keep up the facade of happiness and order, you could easily see that there's something wrong behind the scenes, and it's only up to your conscience to either go with your hunch, or just let it go, and persuade yourself that in fact they have really been in an accident, the third time this week. So this was the starting point for the script I wrote, but these also were the guidelines to everything else, from art direction to music choice, or the acting styles of our three great actresses.
Adam Heisler, the producer was a great aid in making everything possible, just the way I dreamed it. Even though we had a tremendously limited budget, he managed to make me feel like I had everything at my disposal, just as if it was a big budget commercial.
The clean, block colours art direction steps out of the stereotypical domestic violence grittiness usually found in commercials. It's a style you have also used in the wonderful PSA Ride your bike. Please tell us about the art direction and how that came about. What inspired you? Did you have sets built?
I like to think of myself as a 'style-less' director, in the sense that I always make every choice based on the actual script, and what the story needs, and not because I have a fondness for certain styles. This was also the case for the NaNe spot. The vivid colours, the perfect order of furniture and appliances, all communicated their painstaking effort to lie that everything is cheerful and all right.
There are only some small signs to alert the viewer that something is off: the pictures in the background, the fiddling with the wedding rings, etc. Just as in real life: you are never sure if the other person is actually a victim of abuse, but if you have strong hunches about it, it should be enough to maybe gently start up a conversation with her.
The sets were designed and built by a team led by Nóra Takács, with props from Panni Luther. The art direction was my responsibility, together with the DOP Tamás Gács.
A fuller version of this interview appears on the YDA blog