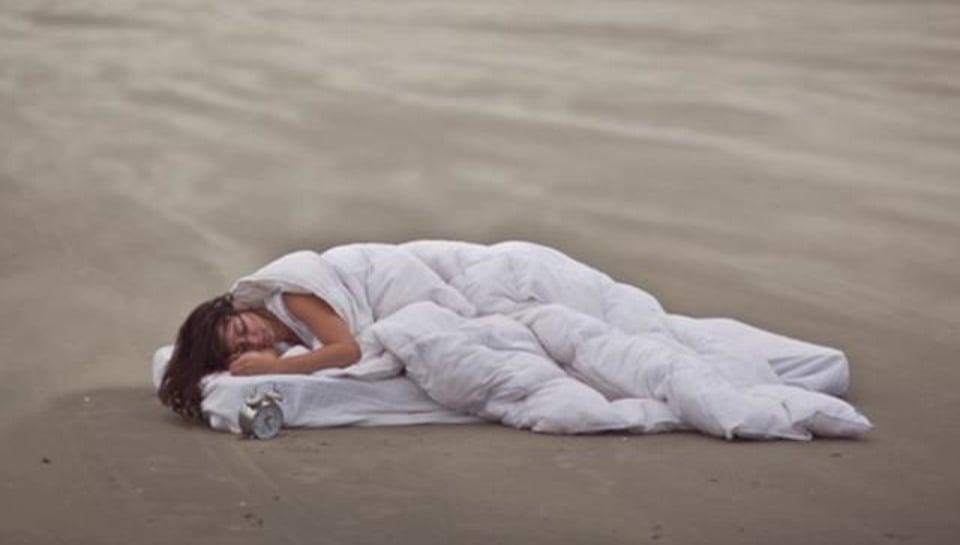 16th January 2012
Leaps and bounds
Title of film: Gravity
Director: Filip Piskorzynski
Natalia Dufraisse and Filip Piskorzynski's beautiful stop-frame magic
1.4 talks with Filip somewhere over the Atlantic between Bogota and Paris
How did your film Gravity come about?
Natalia and I were in Burkina Faso in February this year.
I had this idea to combine the jump flying effect with Natalia's dancing elements.
What came out of this was a little sequence we called "fly dance".
We liked it but there was no real storyline.
After three months we shot the scenes at the beach in Belgium with strong, strong wind.
Again two months after in Hamburg we glued a little story together and shot nearly all the rest. Well, we reshot two scenes in Brussels later.
Is the flying effect all in camera – did Natalia really jump forever – or did you use post as well?
The effect is mostly in camera. Only the shots where she falls down the wall are green screen shots and the final composition of course which plopped out of After Effects.
We shot this on a Canon eos 5d mkII with old Nikon prime lenses on a Novoflex adapter.
My lens set is: 24mm 2.0 // 35mm 1.4 // 50mm 1.2 // 85mm 1.4 // 105mm 1.8
The whole film is made out of single take pictures in sraw2 format.
How many I don't know exactly. I have to check that at home…
Great locations where did you find these?
The locations are purely spontaneous. We travel. We see. We shoot.
What came first, the film or the music?
The music… well… Erwan Castex (Rone) is a good friend of Natalia so it was her who contacted him.
But that was in July so we already had the film done. Nearly. But we're super happy to have him on board.
You also shoot commercials – which recent piece are you most proud of and why?
Yes, I do commercials and I worked for some bigger clients but
I have to say that I do not have any commercial I'm really proud of yet.
Are you signed to a production company or work independently?
I'm independent. I'm talking to Artmedia in Paris at the moment to maybe sign for a year but so far I'm completely free.
Credits
Music by Rone "Taste City" Director: Filip Piskorzynski Performer: Natalia Dufraisse