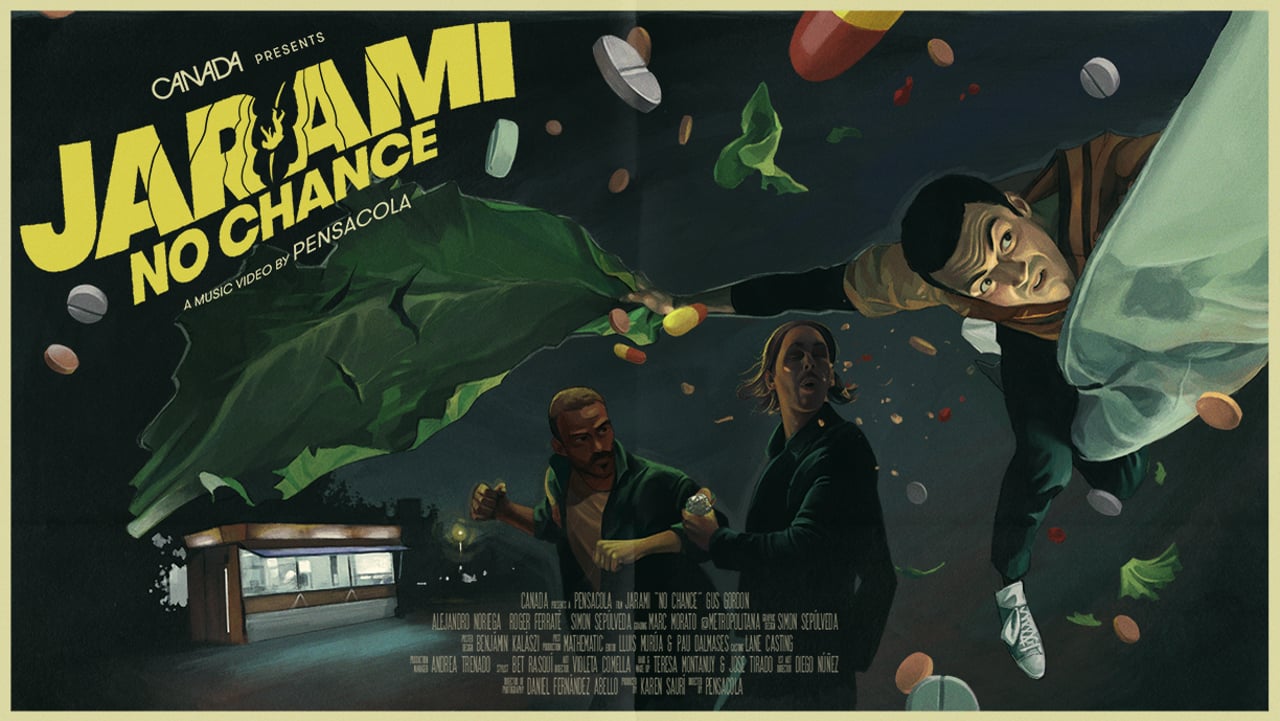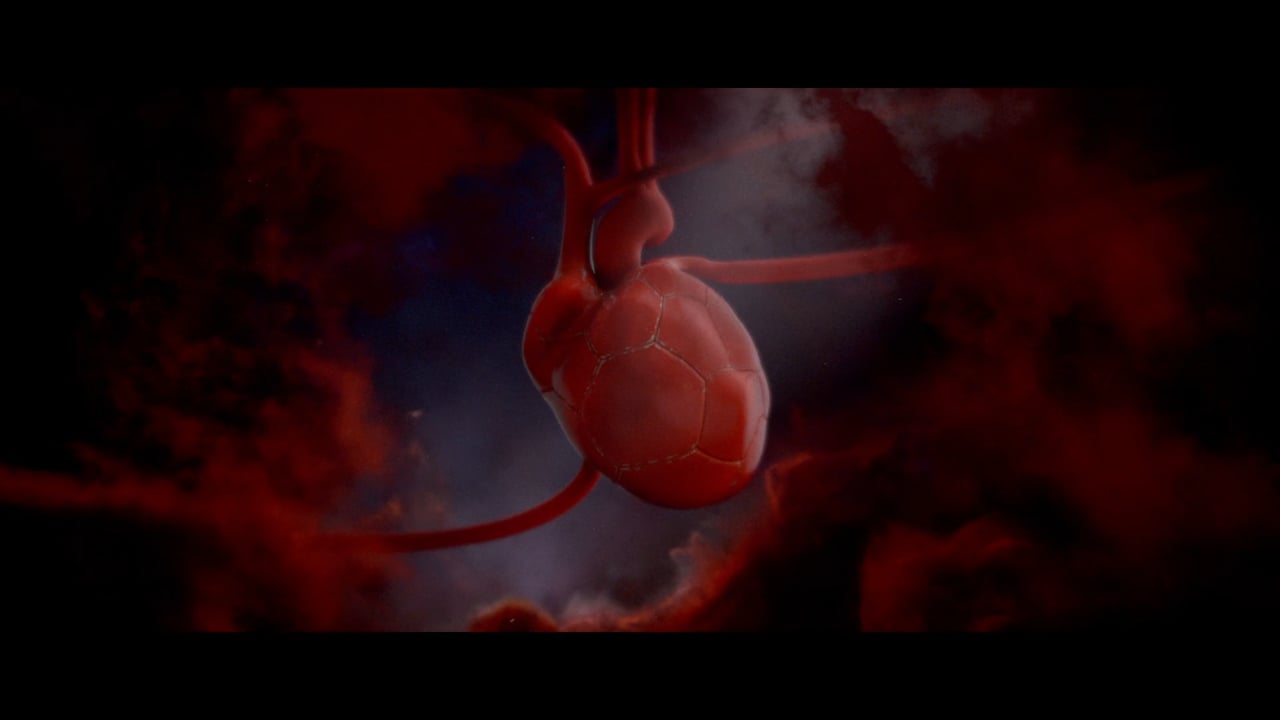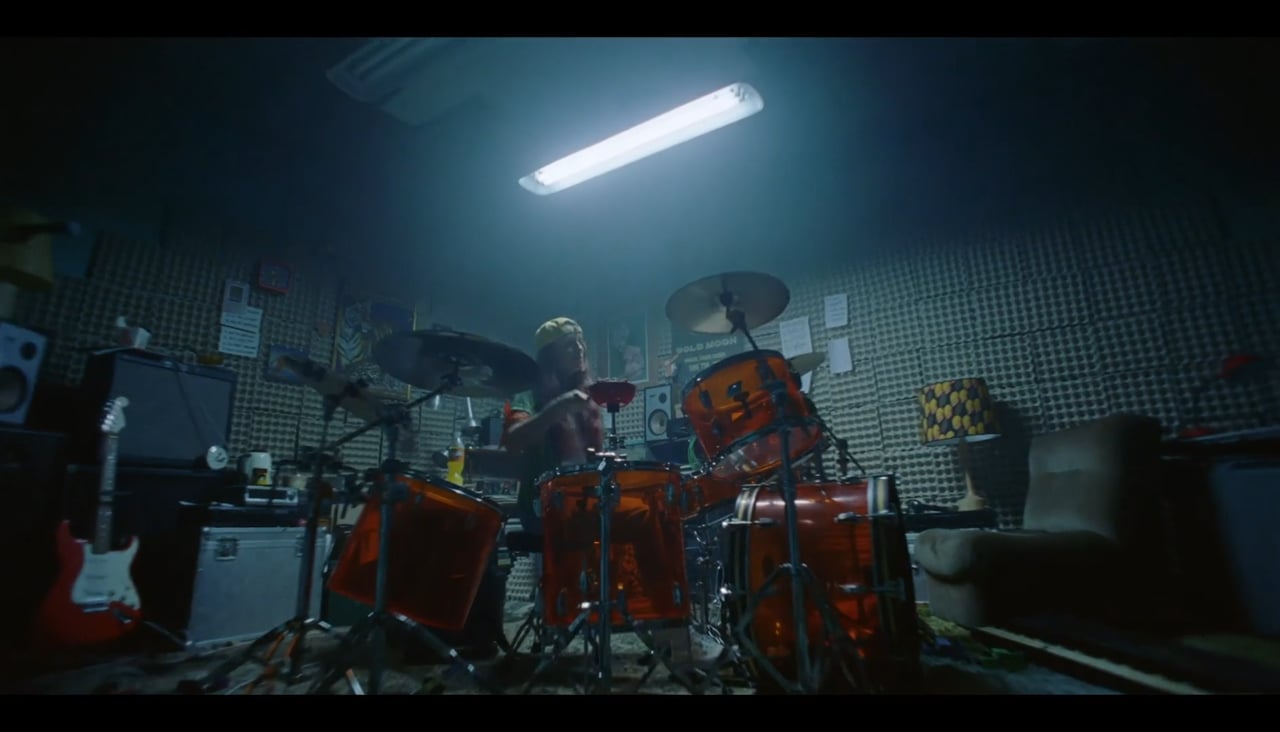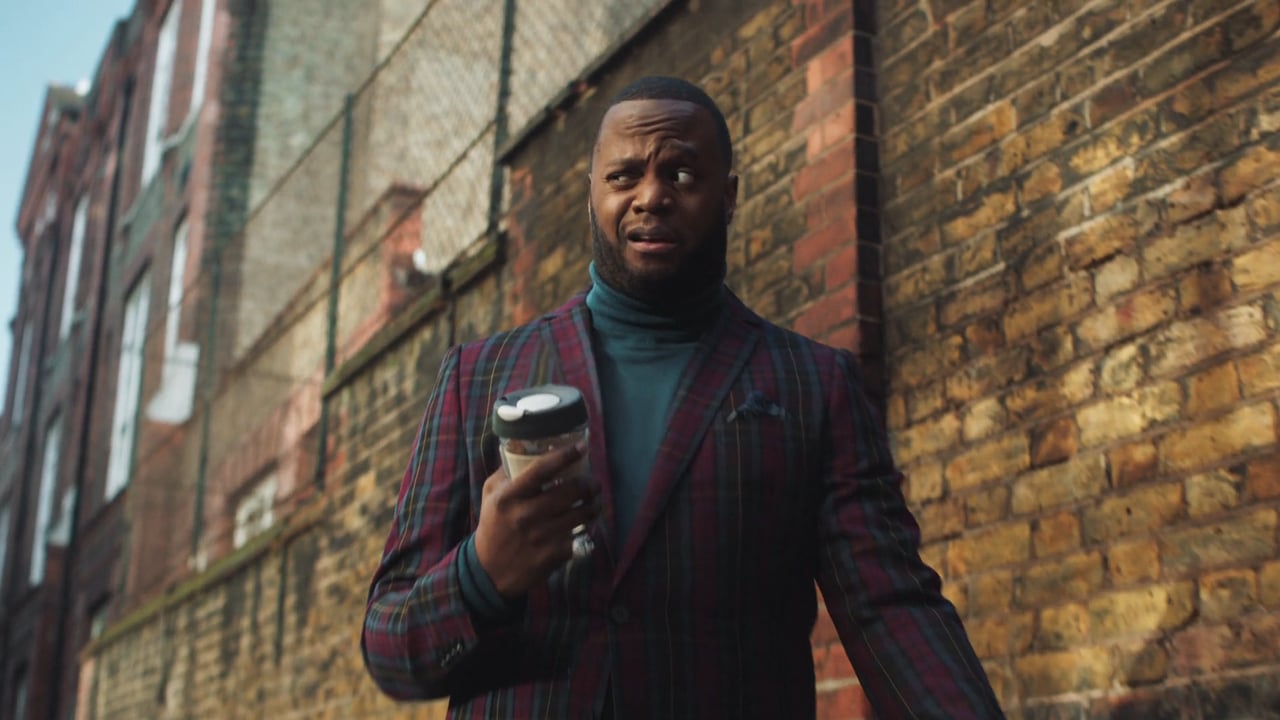 18th October 2023
Never Skipping a Beat
Title of film: Chemical Brothers: Skipping Like A Stone ft. Beck
Director: Pensacola
Production Company: CANADA
We've all stood at the shoreline and idly skipped a stone – getting in one, maybe two hops across the surface before the rock sinks like a… well, you get the picture. But what if it had carried on? Where would it ultimately end up? In a new video for the Chemical Brothers, CANADA director Pensacola takes this intriguing idea and runs with it – following a humble stone skipped by world champion Kurt Steiner as it takes on a life (and conscience) of its own, embarking on an incredible inter-dimensional journey in a quest to do good. Seamlessly fusing eye-popping VFX with masterful camerawork, it's the sort of offbeat, high-energy filmic yarn that we've come to expect from a director who's played Honey I Shrunk The Kids at a kebab stall and taken Eric Cantona on an epic journey through the history of the beautiful game. He talks to 1.4 about the power resetting-properties of music videos - and why he'll never look at a stone in the same way
Director Pau Dalmases,  Pensacola
The concept behind your new video, Skipping Like A Stone, for the Chemical Brothers – a skipped stone goes rogue and embarks on an incredible journey across different dimensions, doing acts of good along the way before returning 'home' – is absolutely bonkers (in the best possible way!) Were you given complete creative freedom?
Pau Dalmases: Yes, the brief was completely open, and we knew a lot of people would be pitching for it, so we decided to bring something we considered new, and work on a concept that was both cinematic and as mesmerising as the song.
The song has a certain epic, celestial tone. I listened to it 400 times and some images repeated in my head every time we listened to it. Then, of course, the lyrics associate the idea of coming together, with skipping stones. When you associate these two concepts, very poetic ideas come to mind. Doing the treatment was a lot of fun. I was completely aware that it was a "weird" idea to present, but having grown up watching Chemical Brothers videos, I always loved how different and odd their videos were. That's why the videos are so iconic.
World's greatest stone thrower Kurt Steiner
The video stars Kurt Steiner, the world record-holding champion stone skipper and a legend in the stone skipping community – how did you first come across him? What was he like to work with, particularly under the pressure of a shoot?
Kurt came to mind when I started researching and looking for beautiful imagery of stone skipping. He has a captivating look and an incredible approach to stone skipping and life in general.
The most beautiful thing about Kurt is how magnetic he becomes. Stone skipping can sound like a joke for some people, but it has a meaning and is an incredible way to reconnect with nature.
He is incredibly interesting, and we were stoked to have him on set. He was so great and professional. Everyone fell in love with him. He is an athlete and delivered in every shot. He also decided to come hang out the rest of the shoot days. He is a genuinely intelligent and ultra-curious person. You don't come across people like Kurt often these days.
I did write him into the treatment from the start – but knew that he lives off grid most of the year, so it was more wishful thinking than anything. But then the production team at CANADA and the guys at Lane Casting in London did an incredible job tracking him down.
Alongside Steiner, the other starring role is definitely the skipping stone – it's incredible how much personality you've managed to inject into a rock. You also brought a lettuce to life in your video for Jarami No Chance – how do you approach the challenge of humanising inanimate objects? 
I think it is a quest to create emotions in places where I normally don't find them. The stone is, in a way, an ideal. First, as an extension of Kurt, of the energy he projects into the rock when he throws rocks, it was also an incredible way to portray the force of the song. That idea of someone coming to your rescue when you most need it. It is more of an idea and a dream, than something tangible. But the stone is a very physical object that can create mayhem when you unleash it; that mix was interesting to me. Putting the spotlight on things we usually ignore and realising that they can also be special is something that always captivates me. I haven't looked at any stone the same since we did the video!
There's an enormous amount of film techniques and camera effects on show – from animated textbook sketches to slo-mo Matrix-esque moments, quick-fire transitions, crazy angles – how much was captured in-camera versus VFX?
It is almost all on camera. That was a must for us. We wanted the video to feel cinematic and organic. What Kurt does is already incredible, but absolutely everything is on camera. The extraordinary happens when the stone starts bouncing to the beat of the song and when it comes out of the water. So we wanted to blend those moments so that they felt seamless, just a continuation of the stone's path.
The stone over the water shot with the drone was the most intricate VFX shot. Mathematic recreated the stone after scanning our hero rock, and it paired the speed and made the stone bounce to the beat. We shot all that sequence in drones, and we timed it perfectly in all our animatics before the shoot. The same happens in the drone shots of the stone on the road.
We worked with an incredible crew, starting with our Production Designer, Miranda Lorenz and Christopher Ripley, the DOP. They both were completely on board when trying to achieve as much as we could on camera. Then, the incredible crew in Lithuania linked us with the most amazing SFX guys. So, every shot was designed so that the impact and explosion of the stone was on camera, and then the stone itself would be added on VFX by the wizards at Mathematic, the best post-production company you can find for these kind of projects.
It was honestly an incredible honour to work with such a great crew. Every single one of them made the project so much better than the initial idea.
And what were the most technically challenging aspects of production?
Every sequence had its challenges, which was the project's fun part. I learned so much doing this. First, we had to find the right mix of cameras and formats to achieve what we wanted. We wanted super slow motion, but we did not have the budget for a Phantom. The DOP, Chris Ripley, is an incredibly creative guy, and he came up with a number of solutions and basically, we gambled that it would work. We worked with the Ember for the first time (no one in Lithuania had shot with it before), and we managed to achieve what we wanted with that camera for the super slow motion, plus an FPV drone, plus a regular drone for the Alexa, etc. So, there are a lot of formats that will only work if you plan strictly for it. It was a long process, a lot of days, a lot of scouting and drawing and designing explosions. But it was so fun.
DP Chris Riley filming on location with Kurt Steiner
We last spoke to you ten years ago, in the very early days of Pensacola. How has your working relationship evolved and changed since then?
It has been ten years? Daaaamn! It has changed quite a lot, but it remains the same in other ways. Pau Suris is more involved in narrative filmmaking, doing incredible things and developing projects, while I have stuck more with the commercials and music videos. The learning curve has been amazing, and we hope it continues to be this way.
Your work is brilliantly energetic, full of colourful characters and underscored with whimsical narratives. Where do you get your creative inspiration from? 
I feel like sometimes working only in commercials can get you stuck into a certain style and work mode. It is advantageous to exercise the filmmaking muscle in a practical way, but it sometimes steers you away from creative exploration. Projects like this music video bring you back to square one, and in a way, they rewire your brain to square one: the main reason I started doing what I do.
I have always been inspired by the work of other directors, both in short and long formats, and also by photographers and graphic artists. In this case, I just wanted to lean more into telling a story with a poetic aspect. I did not want to have a typical narrative arc, but I also did not want to do a series of vignettes. In many ways, it was all about setting up a punchy concept, and following its own logic to see where it would take me.
Having the luxury of bouncing ideas off [CANADA directors and co-founders] Nico and Lope is always such an incredible and inspiring process. But in this case, I also opened it up to other ways of seeing things. I had been re-watching several Spike Jonze and Jonathan Glazer videos and went back to what made me want to be a music video director. There is an oddness and scent in the video that I feel captures a lot of the vibes of the early 2000's music videos that obsessed me when I was a kid.
I increasingly try to explore the creative process from a non-practical point of view, tying up my ideas with the latest photo book I bought and a random conversation while cooking dinner with a group of friends. Some of the images for this video came to me like this.
Still from Skipping like a stone
As Pensacola, you've built a reputation for camera tricks and a mastery of VFX. Do you always choose particular techniques or equipment to serve the creative idea, or is it ever the other way round – coming up with a concept that allows you to try out a particular technique or piece of kit?
I think we have used VFX very practically, but I don't consider us masters at it. I see what people are doing now with simple VFX and more advanced techniques, and it is mind-blowing. But the main difference is that now we take the knowledge we have on VFX and apply it to the idea, the concept. We don't force VFX into it, if that makes sense.
I love to learn new techniques but the most organic way to interact with these is by having ideas that merge with them. Forcing them into it always feels a bit random.
What's your take on AI in filmmaking? Friend or foe?
There is a lot to explore, but once again, the concept and idea behind anything creative make it strong. AI can be a tool for exploration. Thinking of it like this underestimates its potential as a tool. AI could even change the way one approaches the creative process, multiplying the options and the trial-and-error process. But I never think AI would make a bad idea good.
I have worked with it and have a lot of friends who use it in their day-to-day creative process. The possibilities are endless, but I wish people saw it as a tool to make ideas more of an exploration, instead of substituting or removing roles in the creative process.
BTS cast, Skipping like a stone
And what are you working on at the moment?
We are both working on scripts for the short format, and of course, we are now shooting a couple of commercials. I love combining both things when possible, but I'm definitely itching to get back to a music video again soon. The process is too intense, exciting and fun not to want to repeat over and over again.
Interview by Selena Schleh
INFO:
CANADA website
@canadacanadacom
Pensacola website
@pensacolastudio
@storyguyboards
See storyboards here
Read Outside article on Kurt Steiner here
Credits
Directed by Pensacola
Produced by CANADA
Production Company (Lithuania) 247xRadioaktivefilm
Starring Kurt Steiner
CANADA
Global Head of Production: Alba Barneda
Managing Director, London: Marta Bobić
EP / Head of Music Videos:Callum Harrison
Producer Adam Farley
Producer Davey Ahern
247xRadioaktivefilm
Executive Producer Kate Galytska
Producer Justina Ragauskaite
Director of Photography Christopher Ripley
Production Designer Miranda Lorenz
1st AD Asta Rizgeliene
Costume Designer Monika Solomine
Casting (UK) LANE Casting
Casting (Lithuania) Jurga Kauneckiene (FACE BAR)
Makeup Artist Karolina Balcytiene
Editor Jack Williams (The Assembly Rooms)
Colour Grading Emiliano Serantoni
Post Production Mathematic
Sound Design IXYXI
Commissioner Ailsa Robertson
Label EMI
Production Manager Indre Siupinyte
Production Coordinator Vaida Gudelyte
Production Assistant (CANADA) Matilda Silversved Miralles
Production Assistant
Evelina Juskeviciute
Sibile Cibulskaite
Matas Mekas
Office Runner (CANADA) Arnie Muthucumarasamy
1st AC Andrius Baltrusiunas
2nd AC Titas Satkunas
Lukas Karalius
Playback Nikolas Verseckas
DIT Jokubas Lapinskas
Key Grip Lech Gunovic
Key Grip Dovydas Strioga
Grip Raimond Maldis
Grip Marius Zilenas
Gaffer Paulius Sakalauskas
Best Boy Martynas Jonavicius
Spark Donatas Bausys
Spark Oleg Godickij
Spark Rokas Kazakevicius
Spark Konstantinas Klepikovas
Spark Marius Navaric
Art Director Aurimas Aksys
Dressers & Props Assistant Andrius Kulvinskas
Dressers & Props Assistant Antanas Dubauskas
Dressers & Props Assistant Jevgenij Sizych
Dressers & Props Assistant Justas Cechovicius
Dressers & Props Assistant Tomas Kulesa
Dressers & Props Assistant Michail Blinov
Dressers & Props Assistant Kristijonas Zungaila
Set Construction CINEEFFECTS STUDIO
Construction Supervisor Vytautas Gecas
Picture Vehicle Manager Lukas Skimelis
SFX Supervisor Artiom Grigorian
SFX Technician Gintaras (Edvardas) Tamulevicius
SFX Technician Pijus Tamulevicius
SFX Technician Domas Lukosius
SFX Technician Andzejus Seipunas
SFX Technician Egidijus Pliaskis
SFX Technician Jaroslav Caplin
Wardrobe Supervisor Ugne Smalskyte
Costumer Monika Buivydaite
Costumer Akvile Jancauskaite
Makeup Assistant Auguste Kuzaite
Location Manager Orestas Gurevicius
Location Assistant Martina Kryzeviciute
FPV Drone Operator Algirdas Rumbaitis
Inspire Drone Operator Povilas Stankunas
Inspire Drone Operator Domantas Kancleris
BTS Photographers "Audrius Solominas
Imantas Boiko
BTS Videographers Lukas Tijusas, Ronaldas Burokas
Storyboard Artist Guy Perez
Graphics (Titles and Credits) Simón Sepúlveda
Unit Supervisor Leonid Radzevic (UNIT.LT)
Unit Manager Mantas Lileikis
Unit Runners & Facility Transport "Olegas Lobacevskij
Edvinas Dijankovas
Edgaras Marcinkevic
Ugnius Dedynas"
Medic Andrej Podkopajev
Transport Coordinator Dainius Augunas
Valdemaras Lozovojus
Kazimieras Pileckis
Alikas Levanovicius"
Catering Manager Gediminas Rudys (MUCH MORE LT)
Catering Coordinator Maryna Borovlova
Catering Assistants "Klim Reva
Aivaras Bartoska
Yurii Cheporniuk
Radmila Korolova
Edit Company The Assembly Rooms
Edit Producer Daniel Breheny
Edit Assistant Bruna Manfredi
Visualiser "Chris Day
Eden Read
Post Production Company Mathematic
Executive Producer Rebecca Rice
VFX Producer Claire English, Nicolas Bianchi
VFX Supervisor François-Xavier Pourre
Houdini Olivier Colchen, Cosmin Gengeu, Alexeis Ossipov, Thomas Renault
3D modeling, texturing, lighting, render Orlane Brouillet
3D Animation Emma Lebourgeois
Ornella Luzzi
Compositing "Emeric Samier
Ronan Broudin
Fabien Delavous
Philippe Nalet
David Espada
Graphic Design and Art Direction Clémence Bol, Louise Levallois
Color Grading Emiliano Serantoni
Edit, Grade & Conform Assistants Benjamin Mack
Thibault Chanet
Selim Meddeb
René Samoel"
Tracking Adrien Delecroix
Andréa Hevert
Éva Clerc
Kerian Le Corre
Hamza Kabtni
Mondher Marzougui"
Additional Post Production (CANADA) Álvaro Posadas, Marta Castillo
Post Production Coordinator (CANADA) Javier Botella, Elisabet Meoz
Post Production Assistant (CANADA) Mateo Bravo Mir
Image Researcher Susi Paz