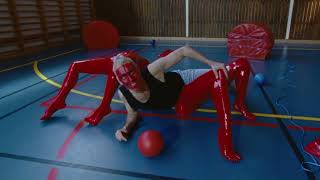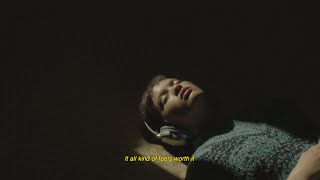 17th November 2022
Risk and reward
Title of film: Olivia Dean, Danger
Director: Malin Osafo
Production Company: new—land
The work of Stockholm-based director Malin Osafo is a visual feast for the eyes, with her knack for captivating lighting and multi-layered effects. Her new video for Olivia Dean's Danger, shot in a single day, flips, rotates, and warps our view with kaleidoscope visuals that keep you on your toes. Having recently signed to new–land's New Talent roster, Malin catches up with 1.4's Becca Nichols about her ironic sensibility, the power of post-production, and how falling in love with sculpture led her to directing.
Malin Osafo
Your masterful use of lighting and graphics renders your work delightfully rich in texture. Tell us a bit about your background in textiles and sculpture, and how that brought you into the world of the moving image.

As a teen, I had an idea that I wanted to work in fashion, or with textiles in general, which led me to a year of art school. What I realised was that while I'm an artsy person…I'm not a very crafty one. I found most of the classic textile techniques very tedious, and to be honest I also wasn't very good at them. However, we also had a sculpture class that I just fell in love with. It sort of anchored my interest in texture, shape and lighting.
At the time, coming from a working class background, I had a very hard time imagining myself as an artist and couldn't see it as a career. Everyone around me kept advising me that my hobbies didn't need to be my livelihood, but for some reason I wouldn't listen. I applied for architecture school, took a sociology class and at one point I told my mum I wanted to study microbiology…that's the one time I remember her looking really concerned.
After multiple crying sessions at the student counsellors, we came to the conclusion I was drawn to the idea of film work because of the opportunity of working creatively in a team. I didn't really have directing in mind at the time. I really just wanted to find a job where I would feel fulfilled.
From Olivia Dean's Danger
Your love of texture is clear in your most recent music video release for Olivia Dean's Danger, which uses a variety of visual effects, graphics, and extreme close-ups to create multi-layered visuals. How much do you plan these aspects early on in your storyboarding process, and how much appears along throughout the shooting process, or in the edit?

In a way it's very planned. The effects serve as gateways from one section to another, making them an original part of the video's structure. How it is that each desired effect actually was made, that's a different story. I do quite a lot of sketches to help my team (and me) understand what I need, but each effect is its own process.

For example, the part after the acid melt in the video was a real case of trial and error. We basically used as many in camera distortions we had time for during the shoot and then stitching them together in the edit was a case of playing with warps and overlays.
In terms of the more graphic animations we worked with a mixed media artist who interpreted my wishes in his own artistic style, which was such a fun and interesting process to be a part of. We ended up using more of their work than was originally planned to essentially give the video more of a cohesive look.
From Olivia Dean's Danger
What were the challenges of shooting Danger?

Shooting-wise, definitely time. Getting the most out of one shoot day really puts you to the test in terms of being clear with what you want. But a lot of the challenges of "Danger" came after the shoot. Combining the different setups and textures in a way that felt balanced, smooth and purposeful meant going many rounds in the edit.
From LIBERTÉ ÉGALITÉ ÉLASTICITÉ
Your wonderfully bizarre film LIBERTÉ ÉGALITÉ ÉLASTICITÉ is a collaboration with artist Anita Falk following a disaffected sculpture going for a job interview. Tell us a bit about the collaborative process between you and Anita.

The film takes its starting point in Anita's sculptural project ÉLASTICITÉ. Her sculptures exist as part of a scheme of symbols, functions, movements, colours and shapes. The meeting between body and space and the meeting between body and herself. I was very fascinated with this universe and wanted to create a piece that would let you enter the Elasticité world with all your senses. I wrote the story about the job interview because it's such a common denominator. It was the perfect mundane situation to use as a segway into a spiralling mind. 
We edited the piece together and Anita created the whole soundscape with her composition Spinal Cord as the musical base. The whole collaboration relied on everything getting to take the time it needed. It was a bit anxiety-inducing for me, coming from a world of strict deadlines and delivery dates, but now I'm happy I got to experience the process.
Where does your love of the uncanny, the absurd, and the hilarious come from? Can you pinpoint any particular filmic influences in your work?

It's just my way of handling life I think, I've always had an ironic sensibility. It changes from time to time of course, as it does for everyone, but Twin Peaks is an all time favourite. I keep coming back to Festen by Thomas Vinterberg and I'm interested in the thematic works of Wong Kar Wai and Pedro Almodovar.
From LIBERTÉ ÉGALITÉ ÉLASTICITÉ
You've worked with new—land in other areas, from production to casting. How do you think working in those roles has shaped your approach to directing?

It made me gain a broader understanding of the industry, what it takes to create together and how much you can do with limited means if you come up with smart solutions. Working in production I think can ground you and make you aware of the limitations of certain budgets or techniques, but for me it did the opposite as well. I was way more of a realist, or even a pessimist, before, whereas now I know just how much is possible if you work for it enough and with the right people. Most of all it made me understand myself as someone to be relied on, it gave me a belief in myself that I never really had before.
Now that you're joining new—land's New Talent roster, what goals do you have for your first projects with them? What are you working on next?

My goals are to create as freely as possible, to learn, to gain experience and to work in teams of talented and passionate people. As of right now I'm having a lot of fun making music videos, so hopefully I'll get to do that more.
Interview by Becca Nichols
Info:
@malinefua
@newland.tv
Credits
Olivia Dean, Danger
Production Company: new-land @newland.tv
Director: Malin Osafo @malinefua
Executive Producer: Daniella Manca @daniellamanca , Trine Pillay @trinepillay
Commissioner: Connie Meade @conconm
Producer: Rowan Mackintosh King @rowanmackintosh
Production Manager: Maddy Williams @melodramaddy
1st AD: Freddie Wright @fredbwright
2nd AD/Runner: Elsa Collingwood
DOP: Tash Duursma @tasha_duursma
1st AC: Alasdair Baines @alibainesfilm 
2nd AC: Dan Howe @dantheac
DIT: Harvey Davies @harvey.fmd
Gaffer: Chris Broomfield @cb_lighting Spark, Dave Allen @dave27allen
Spark: Tom La Motte @tomlamotte 
Runner: Leda Contopanagos @leda.echo
Runner: Driver Tom Gonzales @mr_tamborine_man_
Art Director: Rose Moya @rosemoyasii 
Art Assistant: Florence Creffield
Creative Director/Manager: Emily Braham @aslanpegasus
Wardrobe: Simone Beyene @simoneb.se
MUA Celia: Burton @celiaburtonmakeup
Hair stylist: Shamara Roper @shamara_roper
Stylist Rep: Evie @ Future Rep @future_rep 
Hairstylist Assistant: Donica Campbell
POST
Edit: Callum Pearson @callum_pearson
Color Grade: Alex Gregory @ No. 8
Color Producer: Charlie Morris @ No. 8
Graphics/Frame Animation: Wil Salcedo @aft3rsen
VFX Artist Building: @artistbuilding
LIBERTÉ ÉGALITÉ ÉLASTICITÉ
Written & Directed by Malin Osafo 
Art Direction & Sound By Anita Falk
Director Of Photography:  Hugo Otto-Vallin 
Executive Producer: Erik Torell 
Producer: Mårten Melinder 
Sculptures: Anita Falk
Production Designer: Molly Carlzon 
Mua: Diana Neumark 
Gaffer: Sebastian Sheild 
Spark: David Boström 
Focus Puller: Astrid Junker 
2: Nd Asst Camera: Charlie Åkesson 
Casting & Styling: Anita Falk & Malin Efua Osafo 
Pa: Marcus Kydd 
Pa: Sanna Holm
Edit: Malin Efua Osafo & Anita Falk 
Sound Design, Music & Vo Recording: Anita Falk  
Grade: Nicke Cantarelli
3d: Malin Efua Osafo 
Film Lab: Focus Film 
Stills: Celine Barwich
A Place of Substance
Directed & edited by Malin Efua
Shot by Enzo Paredes Diaz & Malin Efua
Produced by Hilding Bjersby & Malin Efua
VO by Korantemaa
Music by Korantemaa & Tev'n Nhlumayo